Our Garden
In 2010, with the help of Luke, a volunteer from the USA, we started a garden of 7 small wooden beds to teach the children how to grow their own vegetables. Each grade was able to plant spinach seedlings and took great pride in looking after their own plants. This was so successful that every Tuesday we were able to add spinach to their rice lunch.
Today, the garden continues to provide vegetables for the childrens' lunches and from time to time there is sufficient for them to take small samples of their gardening care home.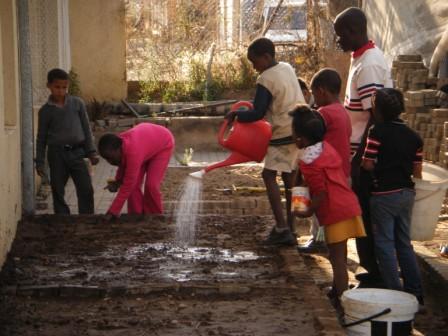 The BNC Garden – as seen by Grade 8
Here is what the Grade 8 learners had to say about the BNC Garden .........................
From Nothing to Something by Sophia
We had an empty space behind the grade two classroom. It was good for nothing. Eventually
some wonderful people put in interlocking bricks, but it was still good for nothing. So after some years or so Grandma Cathy came up with the idea of creating a garden for the BNC. So Grandma teamed up with a volunteer named Luke and they bought the equipment for the garden. But guess what? The grade 8 learners, including me, we built our garden. But after the success with building the garden we had a little trouble with gardening so a wonderful woman named Auntie Fenny helped and now it is a success. Our garden became something from nothing.
Our Wonderful Garden by Georgina Matroos
I will tell you about our wonderful garden. We help each other. Grandma will plant some seeds and we water them to make them grow. First when we started the garden it was dirty and so we cleaned it and planted some pumpkins, spinach, carrots and many more. We even have watermelons. Our garden is very, very special to us because it provides us with fruit and vegetables. We still have to plant apple seeds, bananas and many more. Sometimes the rain helps us to water the garden.
The Secret Garden by Emily
I want to tell you about our garden. First we didn't have a garden. The place where we are having a garden now was first empty, but now we have made a secret garden. We have planted some pumpkins and watermelon and we the Grade 8 students were giving them some water and the garden is very beautiful. I think you should come and see the garden, it is looking fantastic. And every day when the things are growing the sun is dancing and now the rain is giving water to the plants and we don't have to give water to the plants. I think you should come and see the garden. It's like the garden itself is smiling!