Father Bernhard Nordkamp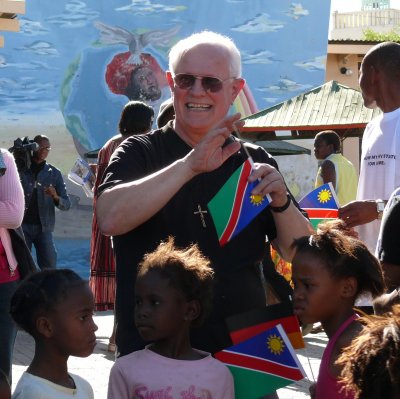 Father Bernhard Nordkamp came to Namibia in 1986 and throughout his fifteen years of dedicated service, he focused on the plight of children – especially those in Windhoek's northern Katutura settlement.
It was his vision and drive that established the children's centre now carrying his name: The Bernard Nordkamp Centre (BNC).  The focus was on providing a safe place for orphans and vulnerable children as well as a soup kitchen, thereby guaranteeing them at least one meal a day.  Father Bernard passed away in July 2009 and the Centre remains as a lasting symbol of his love and concern for under privileged children.  It is that inheritance that has given the ability to provide the passion and commitment to enhance the lives of these children.

Providing hope through education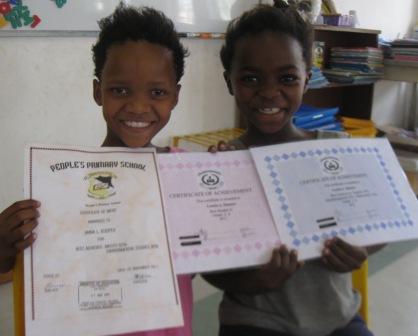 Lor and Nivas proudly presenting their certificates from school.
 In 2005 MaryBeth Gallagher took over the lead at the Bernard Nordkamp Centre (BNC), starting a sport and activities programm for the afternoons. As she looked at the needs of the kids in 2010 it became very obvious that the only way for them to really break the cycle of AIDS and poverty was going to be through education.  Overcrowded classrooms and a lack of textbooks made it difficult for them to make any significant progress in normal schools.  So MaryBeth startet an educational programme that provides education to the children to help to avoid the vicious circle of no education - no job - no money - no education for the next children.
Today the prime focus of the BNC Namibia is to provide a balanced educational programme with emphasis on Mathematics and English, which supports and supplements the Namibian school curriculum.
Since then the school results of the children of the BNC have drastically gone better and the children found a new description for BNC: Best Namibian Children!
Meanwhile the children are proud to say that they are going to the BNC as it does not mean anymore to be poor and silly but in contrary to be well educated, well behaved and to look forward to a future with lots of opportunities!
Thanks to many donors, volunteers and sponsors those kids who regularly come to follow the classes are also supported with school uniforms, school equipment, clothes, toys, food and other things.
ecl
ecl joined the BNC in 2014.
The ecl foundation is a charity registered with the UK Charity commission (1157259) whose purpose is to release the inherent creativity and desire to learn of children and young people around the world.
We imagine that it is possible for every child and young person to flourish, to live their dreams – regardless of race, gender or income. And we work hand in hand with teachers, leaders, parents and care-givers in schools and communities to enable them develop the know-how to create learning environments to do just this.
Our work is based on 2 principles: whole child and whole system, an understanding that education is about so much more than the cognitive and that a child is part of a wider system which includes her family, her community, her culture. The UK Department of Education (IQ report) has called the approach, 'a new paradigm in education'. The foundation stimulates and supports research on the relationship between emotional well-being, creativity and the ability of children to learn (ecl the letters of our name) and we share our findings freely. This is what we are about: stimulating fresh thinking and practice that enables children, young people and communities to flourish and building a community of educators to share, enquire and innovate together – for the benefit of children and young people.
ecl Namibia Hub
Rowena Mould + 26 (4) 81 12 81 52 7                 This email address is being protected from spambots. You need JavaScript enabled to view it.